TEHRAN (FNA)- Iranian Army Deputy Commander Brigadier General Mohammad Hossein Dadras said that the US power to impose its unilateral policies to the world is declining.
"Today, we have attained such a power and honor that if we send a ship to the other side of the world (Latin America), it carries out its mission well without being disturbed; this is the shadow of our power in that region," General Dadras said on Saturday.
He referred to the US declining power, and said, "Today the countries which have been under the US hegemony have distanced themselves from the country and we are witnessing new world powers and [the US] unilateralism is being annihilated."
Deputy Head of Iran's Ports and Maritime Organization Jalil Eslami underlined last month that given the Iranian vessels' professional behavior in international waters, Washington is not able to seize them under the pretext of sanctions.
"If a country acts based on the technical and engineering protocols and the rules, no country can seize its ships," Eslami told reporters in Tehran.
He referred to the US sanctions against Iran and Washington's attempts to use them as a pretext to carry out illegal acts against the Iranian vessels, and said, "Experience has shown that the US can adopt no measure against the ships which have Iranian flag and identity."
Eslami reminded of the Iranian vessels' recent voyage to Venezuela to supply the country with its needed fuel, and said, "Iran's oil tankers met all international maritime rules and the US could not do anything."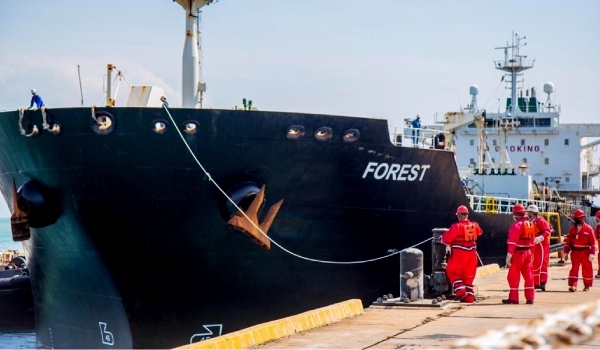 Iranian oil tanker at Venezuelan port
Early in June, five Iranian oil tankers carrying millions of barrels of gasoline and components entered the ports of the fuel-starved South American country and came back to Iran.
The ships, their cargoes and their insurance papers had all been issued by Iran.
President Maduro appreciated Iran, China, Russia and Cuba for their assistance to Caracas, describing them as the real friends of his country.
Late in June, the sixth Iranian ship loaded with food and medical supplies anchored at the port of La Guayra in Venezuela to help the Latin American country in fighting coronavirus epidemic.
President Rouhani said his country is always entitled to defend its sovereignty and territorial integrity, and warned that if his country's oil tankers in the Caribbean or anywhere in the world get into trouble by the Americans, Tehran will definitely retaliate.
"Although some of the US measures have created unacceptable conditions in different parts of the world, we will not be the initiator of tension and clash," Rouhani said in a phone call with the Qatari Emir, Sheikh Tamim bin Hamad Al Thani in May.
Referring to the American moves in the Caribbean, he reiterated, "If our oil tankers face problems in the Caribbean Sea or anywhere in the world by the Americans, they will face problems reciprocally."