TEHRAN (FNA)- Commander of the Islamic Revolution Guards Corps (IRGC) Major General Hossein Salami inaugurated a new naval base in the Eastern parts of the strategic Strait of Hormuz in the Persian Gulf.
The new base, named after Martyr Rahbari, was launched at Sirik, a coastal Iranian town East of the Strait of Hormuz, on Wednesday.
The base, whose construction started six years ago, has been built in an area of 31 hectares with the aim of giving the country full control over the arrival and departure of transregional vessels in the Persian Gulf, Strait of Hormuz, and the Sea of Oman.
Addressing the opening ceremony, General Salami said the naval base has been built in the country's most strategic region, and serves both defensive and offensive purposes in the strategic region of Persian Gulf and Strait of Hormuz.
"With the opening and unveiling of this base, the country's combat operations, ship operations, reconnaissance as well as defensive and offensive operations in the Persian Gulf will further develop," he added.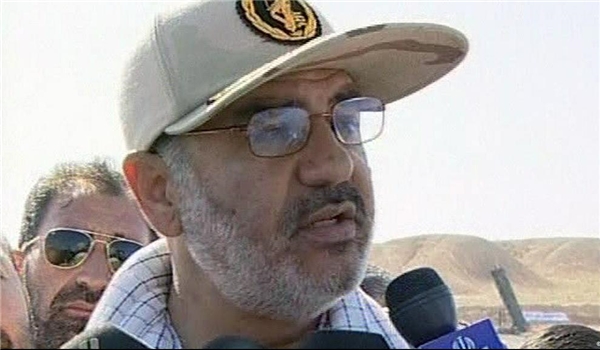 IRGC Commander Major General Salami
The naval base was opened a few days after a US aircraft carrier for the first time in ten months sailed through the Strait of Hormuz and entered into the waters of the Persian Gulf, as Washington has threatened to illegally extend an expiring arms embargo on Iran.
The US 5th Fleet said in a statement that the strike group led by the USS Nimitz and including two guided-missile cruisers and a guided-missile destroyer sailed into the Persian Gulf to operate and train with US partners.
Commander of the IRGC Navy Rear Admiral Alireza Tangsiri announced on Wednesday that the US Nimitz-Class aircraft carrier and its escorts were monitored by home-made drones before approaching the Strait of Hormuz at the entrance of the Persian Gulf.
"In this tracing operation, Nimitz aircraft carrier along with escorting warships, including 2 destroyers (with body numbers) 114 and 104, warships 58 and 59, two patrolling small battleships 9 and 12 and the coast guard vessel 1333 of the terrorist US Army were identified and traced before entering the Strait of Hormuz and the Persian Gulf," Tangsiri said, addressing a ceremony to deliver 188 new drones and helicopters to the IRGC Navy in the Port city of Bandar Abbas.
He said that monitoring all moves in the Persian Gulf, the Strait of Hormuz and the Sea of Oman will be possible with the new drones, which have strengthened Iran's power in aerial monitoring to a large degree.