TEHRAN (FNA)- Iran's Prosecutor General Mohammad Jafar Montazeri warned that Lieutenant General Qassem Soleimani's assassination case will be open as long as Iran has not taken full revenge from all the criminals behind the terror attack on the former Islamic Revolution Guards Corps (IRGC) Quds Force commander.
"The assassination of Lieutenant General Soleimani was one of the heinous crimes of the United States," Montazeri said during a virtual meeting on Wednesday, and stressed, "The case of this terrorist act will be open until all the culprits are avenged."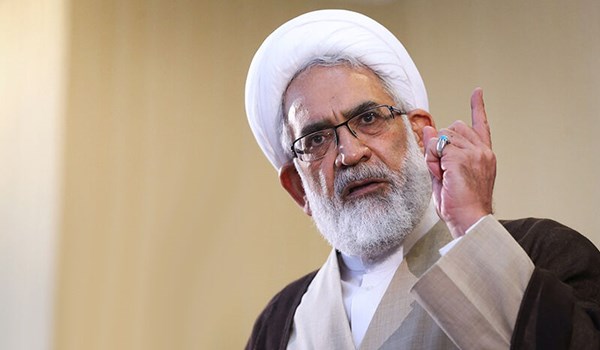 Iran's Prosecutor General Mohammad Jafar Montazeri
"In 1980, the United States provoked Saddam to launch a military attack on Iran in a bid to defeat the nascent Islamic Republic establishment and disintegrate Iran," he said, adding, "however, under the wise leadership of the founder of the Islamic Republic Imam Khomeini, as well as the sacrifice of the Iranian youths, this conspiracy was totally defeated."
Meantime, IRGC Commander Major General Hossein Salami had also warned on Saturday that Iran is resolved to retaliate for the US assassination of former IRGC Quds Force Commander Lieutenant General Qassem Soleimani, and said that all collaborators in the terrorist act are potential targets.
"Mr. Trump, do not doubt about our revenge because it is completely destined and serious," General Salami said, addressing IRGC commanders and officials in Tehran on Saturday.
Iran will take revenge in a fair manner, he added, noting, "This is why we did not target your soldiers at Ein al Assad."
"We will target those who have had a direct or indirect role in the martyrdom of Lieutenant General Qassem Soleimani," General Salami said.
"Do you think that we will target a female ambassador in ransom for the blood of our martyr," asked Salami, referring to US media allegations that Iran had plotted to assassinate US ambassador to South Africa in revenge for the assassination of General Soleimani.
"Americans should know that we will target anyone who has had a role in the cowardly assassination of General Soleimani and this is a serious warning," he said.
"You are threatening us with an attack 1000-times greater in force, while being stranded in your internal problems, but when we targeted Ain al Asad, we were assuming that you would respond and had then made hundreds of missiles ready to destroy targets in case you would respond," General Salami said.
He underlined that the US is given a crushing retaliation if it even damages "one hair" of an Iranian national.
"These are serious warnings. We do not engage in a war of words, but we leave everything to the field of action," General Salami said.
He added that today the US has lost its past military power and has been isolated in the world.
Lieutenant General Soleimani was assassinated in a US drone strike on Baghdad International Airport in Iraq on January 3.
The airstrike also martyred Deputy Commander of Iraq's Popular Mobilization Forces (PMF) Abu Mahdi al-Muhandis. The two were martyred in an American airstrike that targeted their vehicle on the road to the airport.
Five Iranian and five Iraqi military men were martyred by the missiles fired by the US drone at Baghdad International Airport.
On January 8, the IRGC Aerospace Force started heavy ballistic missile attacks on US Ein Al-Assad airbase in Southwestern Iraq near the border with Syria and a US operated airbase in Erbil in retaliation for the US assassination of General Soleimani.
Ein Al-Assad is an airbase with a 4km runway at 188m altitude from sea levels, which is the main and the largest US airbase in Iraq. Early reports said the radar systems and missile defense shields in Ein Al-Assad failed to operate and intercept the Iranian missiles. Unofficial reports said the US army's central radar systems at Ein Al-Assad had been jammed by electronic warfare.
The second IRGC reprisal attack targeted a US military base near Erbil airport in Iraqi Kurdistan Region in the second leg of "Martyr Soleimani" reprisal operation.
Iraq said the attacks had not taken any toll from its army men stationed at these two bases. The US army had blocked entrance into Ein Al-Assad to everyone, including the Iraqi army.
It was the first direct attack on the US army ever since world war two.
The IRGC officials said none of the missiles had been intercepted.
Meantime, Iran announced in late June that it had issued arrest warrants for 36 officials of the US and other countries who have been involved in the assassination of the martyred General Soleimani.
"36 individuals who have been involved or ordered the assassination of Hajj Qassem, including the political and military officials of the US and other governments, have been identified and arrest warrants have been issued for them by the judiciary officials and red alerts have also been issued for them via the Interpol," Prosecutor-General of Tehran Ali Alqasi Mehr said.
He said that the prosecuted individuals are accused of murder and terrorist action, adding that US President Donald Trump stands at the top of the list and will be prosecuted as soon as he stands down presidency after his term ends.