TEHRAN (FNA)- Iranian Consul General in Quetta Hassan Darvishvand and Spokesman of the Government of Balochistan Province of Pakistan Liaquat Shahwani discussed development of bilateral relations, especially cooperation between the border provinces of the two countries in various fields, an arrived at an agreement.
Darvishvand and Shahwani on Friday in Quetta to discuss border collaboration, economic relations and joint fight against the coronavirus.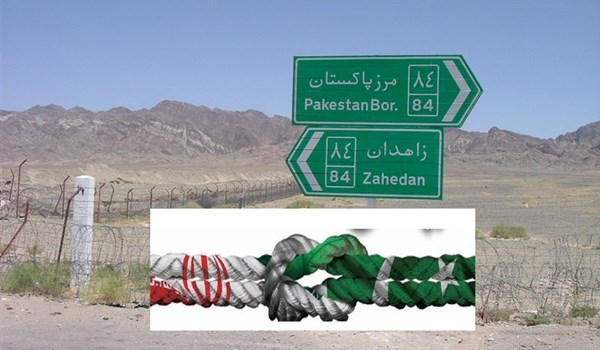 They highlighted expansion of cooperation on border areas and cultural relations between the provinces of Sistan and Balouchestan and Pakistan's Balochistan.
Shahwani called for resumption of cultural youth exchange programs and launching of border markets.
In relevant remarks in early September, Iranian Parliament Speaker Mohammad Baqer Qalibaf and Chairman of the Senate of Pakistan Muhammad Sadiq Sanjrani emphasized further expansion of political, economic, commercial, cultural and parliamentary relations between the two neighboring nations.

Iran's Parliament Speaker Mohammad Baqer Qalibaf (R) and Pakistani Senate Chairman Muhammad Sadiq Sanjrani (L)
Qalibaf said that Iran attaches high importance to its ties with Pakistan and development of relations between the two countries is very important.
He said that fortunately, Iran-Pakistan Parliamentary Friendship Group has been formed in a bid to help strengthen ties between the two countries through bilateral consultation and cooperation as well as in regional and international forums. 
Sanjrani, for his part, stressed the continuation of bilateral talks and Tehran-Islamabad parliamentary consultations.
The Pakistani top lawmaker made it clear that Iran's preventive measures and implementation of health guidelines in fighting coronavirus is important.
"Unity and amity among Islamic countries in the international forums will have a very important impact in the global arenas," he said.