TEHRAN (FNA)- Police of the Central province of Yazd confiscated 440kg of narcotics, local police commander Brigadier General Abbas Ali Behdani Fard said.
Behdani Fard said on Saturday that the antinarcotics police of the province have identified and seized 440 kilograms of opium in three separate operations.
Six smugglers have also been arrested and handed over to the judiciary, he added.
Last week, Iran announced that over 19 tons of illegal drugs had been confiscated by anti-narcotics police during the week before.
Deputy Head of Iran Drug Control Headquarters for International Affairs Nasser Aslani said that last week the total amount of drug discoveries was 19,884kg, showing 20% increase compared to the same period last year.
"Opium, 15,634 kg, accounts for 79% of the discoveries" he added.
Aslani noted during this period, 423 vehicles of the traffickers as well as 18 weapons were confiscated.
He added that 73% of drugs were seized in seven provinces of the country, including Sistan and Balouchestan, Kerman, South Khorasan, Yazd, Isfahan, and Bushehr.
Iranian Ambassador and Permanent Representative to Vienna-Based International Organization Kazzem Qaribabadi said in late June that the country's anti-narcotics campaign is not merely dependent on "fighting", but it also includes other preventive measures.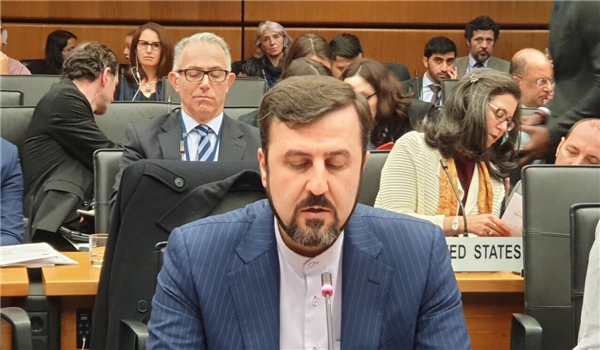 "Iran has a balanced, intelligent approach in the field of narcotics; the country has put preventive measures and plans to raise awareness about the negative impacts of drug abuse high on its agenda in a bid to reduce the demand for narcotics in the society," Qaribabadi wrote on his Instagram page on June 26 on the occasion of 'International Day Against Drug Abuse and Illicit Trafficking', which is marked on June 26 every year.
"In this vein, more than 1.6 individuals were referred to over 9,000 healthcare centers in the country in the past Iranian year (ended March 19)," he added.
The diplomat stressed that last year, 30 Iranian forces were martyred in 2,319 operations against drug trafficking.
Iran's forces also disbanded over 1,886 drug-trafficking gangs in the past year and seized over 950 tons of various drugs from them, he added.
Tehran has always called for global assistance in these operations, Qaribabadi underlined, noting that others, especially European governments, should take responsibility and play a positive role in this fight or face its threats.