Zarif Blasts US' Lawlessness in Harassing Iran's Civil Airliner, Calls for Stopping 'Outlaws' before 'Disaster'
TEHRAN (FNA)- Foreign Minister Mohammad Javad Zarif described the US fighter jets' hostile move against Iran's passenger jetliner audacious lawlessness, and stressed the need for stopping violators of international rules before their actions end up in catastrophe.
"US illegally occupies territory of another State and then harasses a scheduled civil airliner- endangering innocent civilian passengers- ostensibly to protect its occupation forces," Zarif wrote on his Twitter account of Friday.
"Audacity to compound lawlessness upon lawlessness," he noted, adding, "These outlaws must be stopped before disaster."
Two US fighter jets approached a Mahan Air Tehran-Beirut flight over the Syrian sky in a highly risky move and the captain of the Iranian passenger plane was forced to make a sudden change of direction and altitude, causing several injuries.
The captain of Mahan Air Flight No. 1152 later said the pilots of the two hostile planes have identified themselves as US army pilots during a radio contact.
A video posted by a reporter of Iran's state-run TV who was aboard the plane showed an F-15 fighter jet from the window of the plane and comments from a passenger who had blood on his face.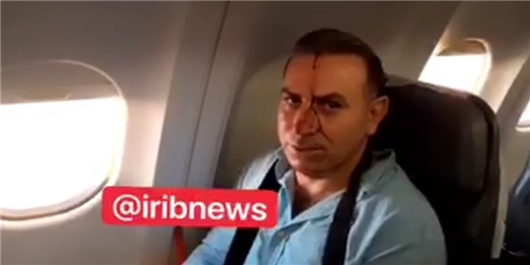 In a later interview from Beirut, the reporter said three passengers have been wounded during "the US planes' intentional move".
Iranian Foreign Ministry Spokesman Seyed Abbas Mousavi said Iran's Ambassador to the UN Majid Takht-Ravanchi has informed the UN Secretary-General Antonio Guterres of the incident, and warned that "in case of any incident for this plane on the way back home, the Islamic Republic of Iran will take the United States responsible".
"A similar message has been sent to the Swiss ambassador to Tehran," the spokesman added. The Swiss embassy hosts the US interests section in Iran in absence of formal diplomatic ties between the two countries.
Mahan Air told FNA later that several passengers have been wounded during the incident and have been taken to a hospital in Beirut and others have evacuated the plane sound and safe.
It said the passenger jetliner refueled to fly back to Iran.
The jetliner flew back home early Friday morning.
Minister of Road and Urban Development Mohammad Eslami said threatening of Iran's passenger plane by US fighter jets is a terrorist move, and added that Civil Aviation Organization of Iran (CAOI) has filed a complaint at the International Civil Aviation Organization (ICAO).
Speaking to FNA on Friday about the hostile move of the US fighter jets against the Iranian Mahan Airbus late on Thursday, Eslami said, "This is a terrorist act which has been carried out by the US lawless and oppressive government. This is considered an international aggression typical of the lawless American government."
The Civil Aviation Organization of Iran called for urgent investigation by ICAO into the threat posed by the US fighter jets to the Iranian passenger plane.
"Iran considers the US fighter jets' threats as blatant instance of the violation of international law, regulations and aviation standards," the CAOI wrote in a communique on Friday.
Iranian Vice President for Legal Affairs Laya Joneidi also said disturbing a passenger plane is equal to the violation of indispensable international rules and regulations.
Causing of disturbance for a passenger plane amounts to violation of the inalienable principles of international rules, Joneidi wrote in a note on Friday.
"The behavior of the fighter jets against Flight No. 1152 of Mahan Air and creating trouble for the passenger plane, and that in a third country's soil [airspace], is in flagrant violation of aviation security and infringing the principle of freedom of flight for civil planes," she said, and noted, "Furthermore, it is in contrast to article 3 and article 44 of Chicago Convention, the relevant appendices and Montreal 1971 Convention."
Joneindi underlined that the explanations presented by the US are unjustifiable and unconvincing; thus, "the measures taken by these fighters have caused international responsibility for their government and is liable to legal prosecution, including at the ICAO and International Court of Tribunal."